Meet Potluck: Great Food, Influencers, and a Platform
Building Shopify for food
I am inviting Rushir Parikh, who — since I connected with him 3 months ago — has consummated an awesome startup idea in food tech, moved to New York, pitched investors and is about to close a round for his company. He's building a kitchen network that can make great food and a platform to attract great brands.
All yours, Rushir!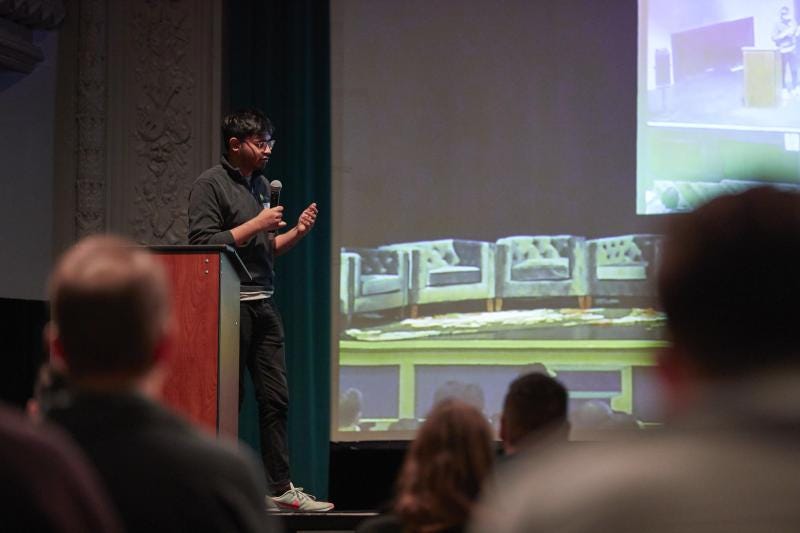 Rushir Parikh spent his high school summers working in his uncle's kitchen in Oxford, Mississippi. After dropping out of college he went on to work in operations and product management roles at Bellhops and Shipt. He's now exploring an opportunity at the intersection of his passions: food, marketplaces, and content.
A Perfect Storm
Aggregators like DoorDash and Uber Eats have stolen the show during the pandemic as consumers rely on food delivery more and more to satisfy their cravings. These apps have accomplished something incredible: they've brought the juicy burger on the billboard telling you to turn right at the next exit to the digital world. 
While these apps have made it easy for existing restaurants to go digital and offer delivery, they haven't made it easier to start a restaurant. This is important because it means there's a big opportunity available if we're to learn anything from the Amazon vs. Shopify battle.
Starting a restaurant is hard—and thus far there hasn't been a need to help create more. Besides, if you talk to any restaurant owner about wanting to start your own, they'll tell you one thing: don't. The margins are bad. The people are unreliable. The stress is high. If you don't pick the right location, serve great food, and know your business inside and out, you'll be closing up shop by the end of year one. 
But over the last few years several things have changed in food and retail:
We have a perfect storm to say that now is a great time to "arm the rebels" of the food world. 
What we're building
We do this by creating a platform that enables any influencer to tap into a turn key solution to create a virtual restaurant brand. We own the food production, integration with delivery networks, and white label ordering experiences. Influencers leverage their personal brands to create short authentic menus (ex. a fitness influencer creating a healthy smoothie brand) and market their latest venture. 
An analogous company, Seed Beauty, works in a similar way. They work with influencers like Kylie Jenner and Kim Kardashian and provide the production and logistics for Kylie Cosmetics and KKW Beauty.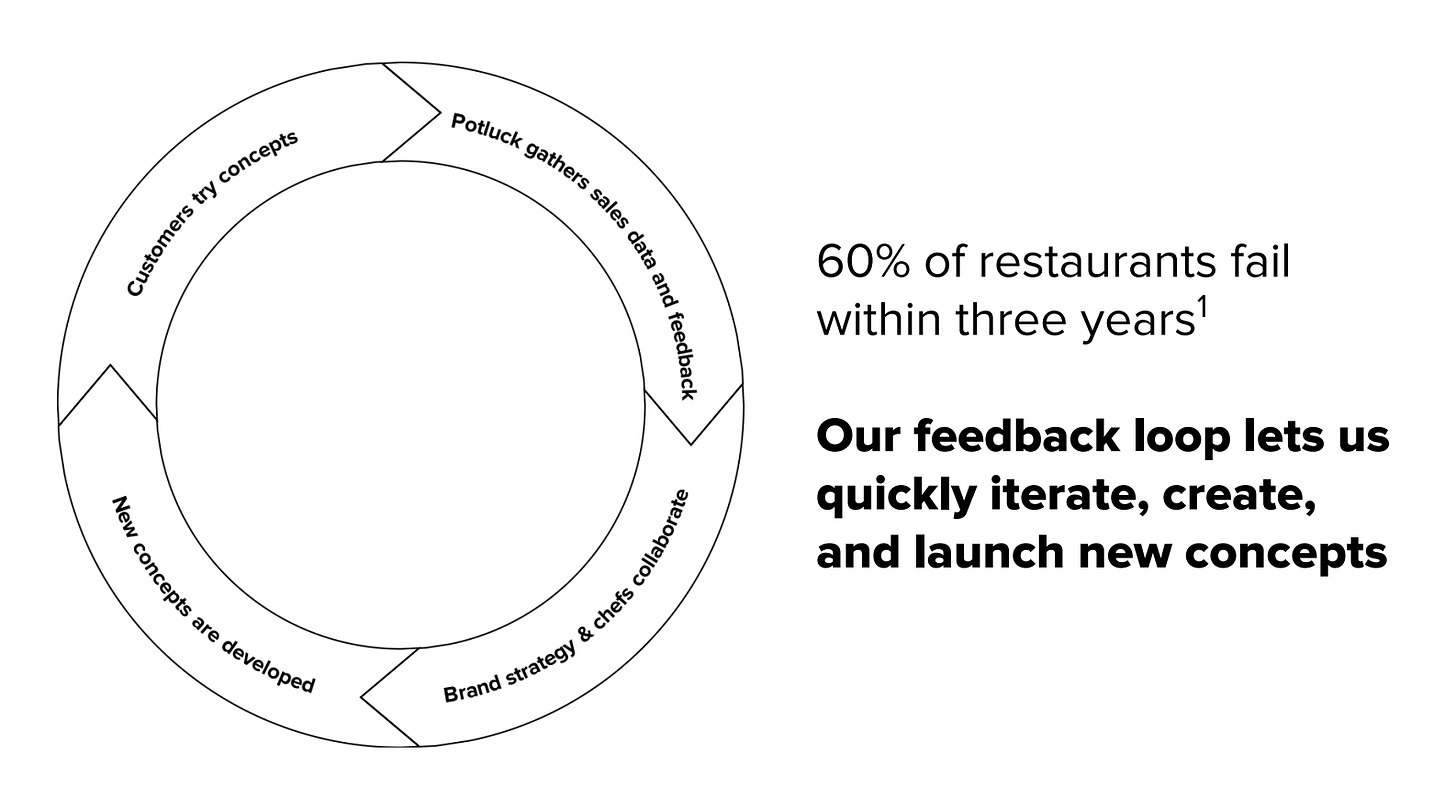 As a platform, we have a unique angle into the food world and we can use Ben Thompson's post on Shopify and the Power of Platforms to highlight three key points:
Platforms succeed by enabling suppliers to differentiate and externalizing network effects to create a mutually beneficial ecosystem

Platforms succeed (or fail) in the aggregate

The easier it is to start a virtual brand on the platform, the more failures there will be. And, at the same time, the greater likelihood there will be of capturing and supporting successes
By decentralizing the creative process and centralizing production, we're able to let any influencer open a virtual kitchen with our turn key solution and be up and running within a matter of days to weeks. These virtual brands will come and go with seasonal changes, ebb and flow with influencer popularity, etc. but by making it easy to plug into our platform, we'll have high chances of capturing demand.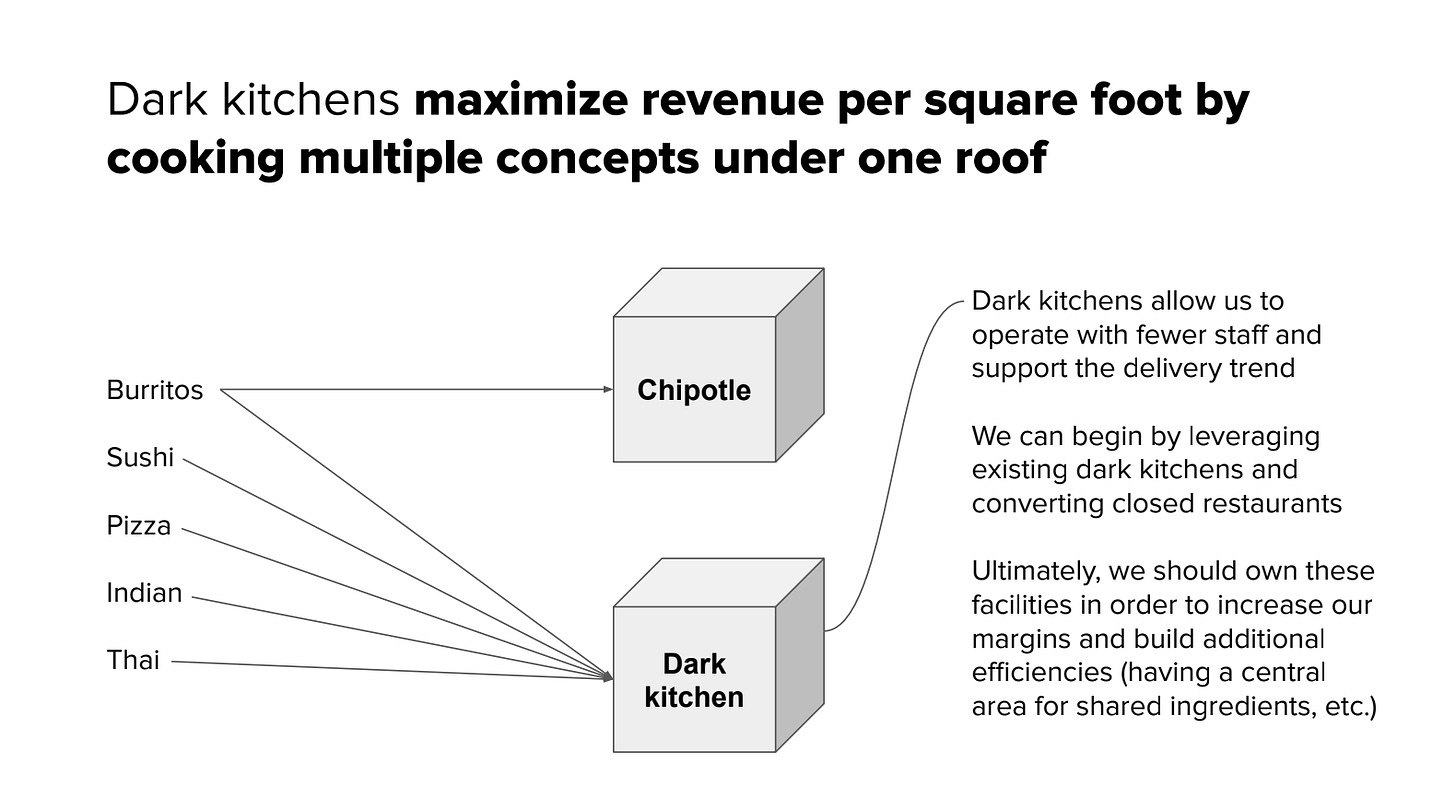 Operationally, we have unique advantages over a traditional restaurant. By aggregating demand from multiple brands into a single kitchen, our unit economics are better. We're also able to balance demand throughout the day, by selectively pursuing certain partnerships. For example, for the morning window we might have fitness influencers crafting breakfast smoothie menus, for lunch a sandwich popup from the latest TikTok star, and for dinner something from a food reviewer on YouTube.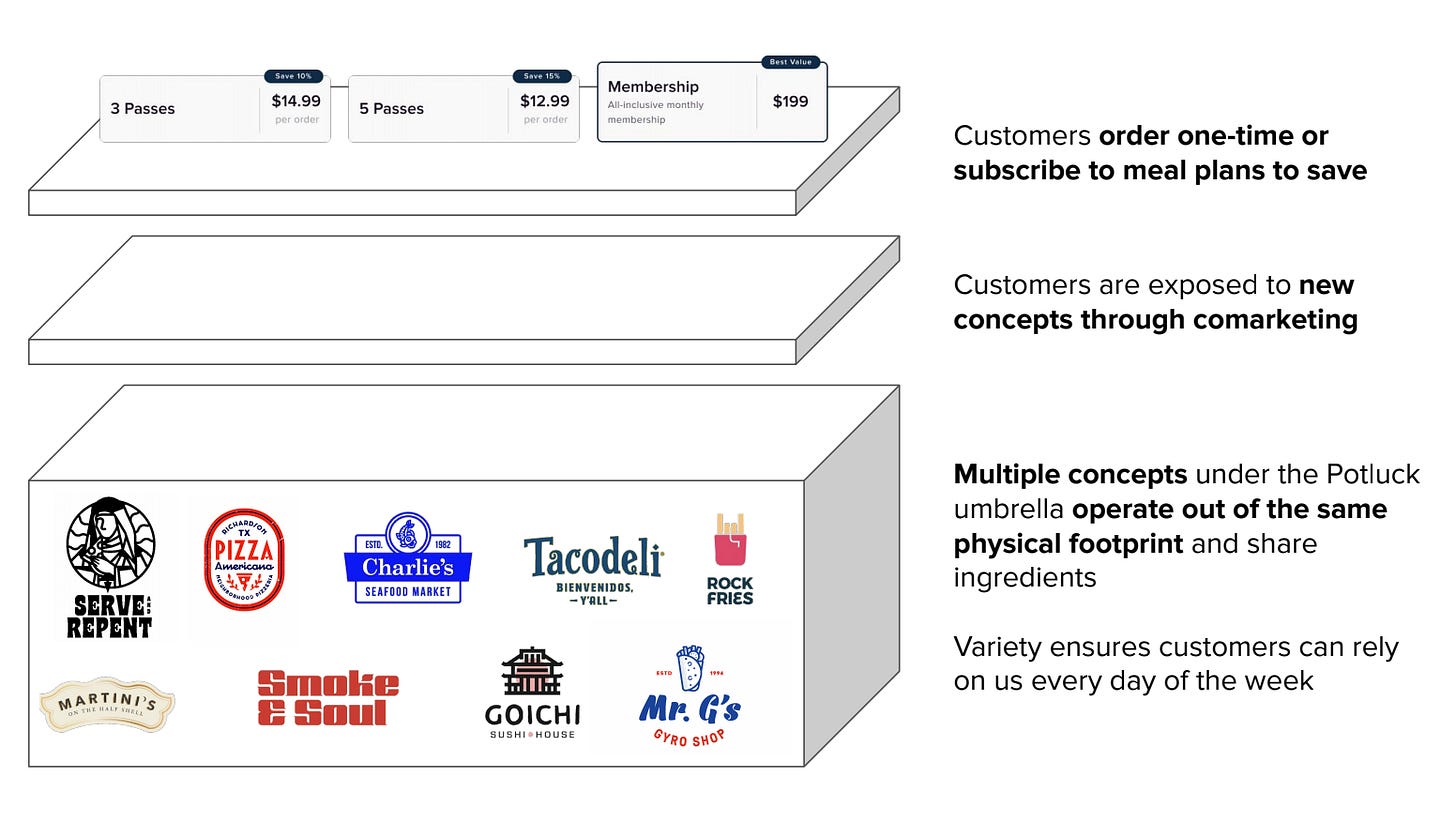 Operating kitchens is hard work, but making this investment and building a rockstar kitchen ops team becomes our moat. We've already drafted our first in-house chef who has opened several restaurants and bars and have a roster of advisors including a former General Manager of Uber Eats, former EVP of Operations at Shipt, and a James Beard Award-winning chef.
If you're interested in what we're building and would like to learn more, please reach out!