6 Food Industry Trends for a Post-Pandemic World
Forget trend-setting, what's trending in the food industry during COVID-19 is survival. Based on conversations I had with various food industry workers and my personal research.
Note from Akshay: Today's guest post is by Parker Place. Parker is a software developer who worked on Ethereum for 2+ years and then quit to work on side projects. He's currently working as a chef at Bếp Gà, a restaurant in New York to satiate his love for cooking and find his next thing.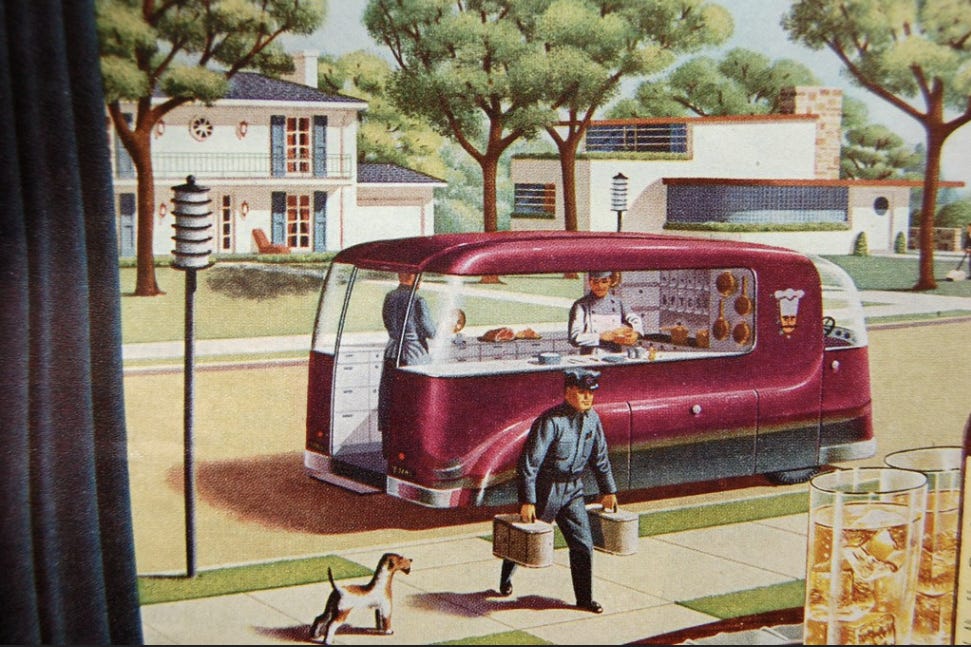 From a 1947 Seagrams ad — "Traveling Kitchens Deliver Packaged Dinners"
The habits we develop during Coronavirus will change our relationships with preparing and buying food. Necessity has driven us to cook. We look for help from food influencers, meal kit services, and now local restaurants we care about. When this is all over, the food business will have a whole new scope of opportunities (as well as crushing debts).
We're cooking more than ever and looking for content and recipes accompanied by a story.

Fearing for their survival, restauranteurs are opening up their supply chain to consumers, offering their ingredients, partially-prepared goods, and cooking advice directly to customers.

With the supply-demand from restaurants gone, farms and producers are going direct to consumers.

Meal kit services have learned from initial industry failures and spawned in every niche, local and national.

Delivery acts as a lifeline to restaurants, the vulnerable, and the lazy. Governments and consumers are critically examining delivery apps' high fees and the use of single-use containers.

Local governments everywhere are relaxing regulations on outdoor eating spaces and high-margin alcohol sales to help indebted restaurants. The most innovation seems to be occurring in cities facing the longest lockdown periods (New York, Chicago, San Francisco).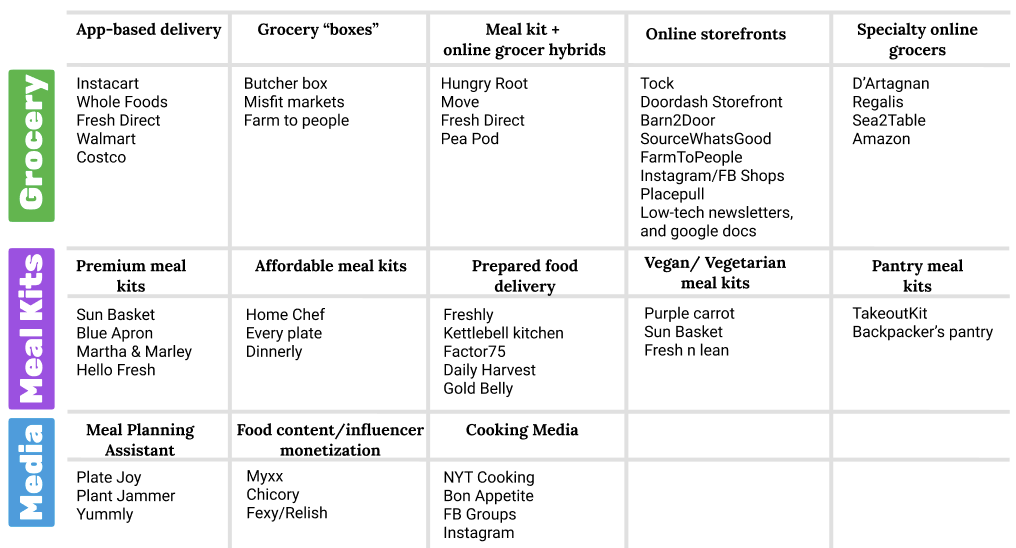 A thorough but non-exhaustive map of food tech and distribution. Made with Figma.
1. People are cooking and turning to influencers for guidance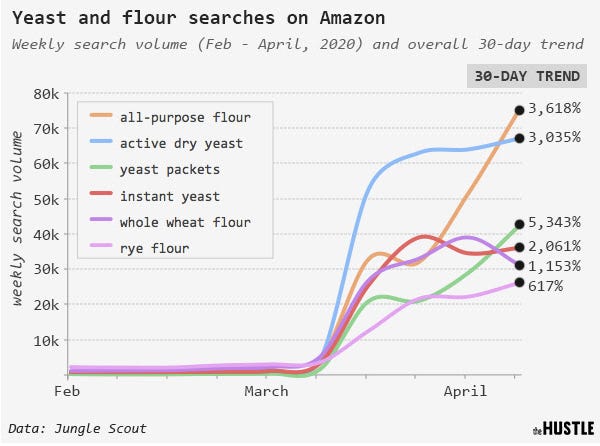 Image captured from the Hustle
And suddenly we're all baking bread.
We're shopping for groceries like it's the 1990's, a decade before fast-casual and delivery. Nearly 80% of Americans shopped for groceries online since the outbreak of COVID-19 and grocery sales were up 30.9% in March. For many, visits to the grocery stores are no longer a chore but rather a permissible way of escaping their homes and enjoying human presence in public places.
It's such a common forecast — cliche even — to say that people are searching for information on social media first. My younger sister uses Instagram to find places to eat, events, and travel guides while all I'm seeing is skate videos and raccoon clips. In between us two lies a vast world of chef influencers' Instagram live streams, Facebook recipe groups, and social networks within the comments sections of NYT cooking.
If my Instagram stories are any indication of reality, former toast-burners are now capable of searing ribeyes on cast-irons and stringent meal-planners are moving beyond baked chicken breasts into bespoke homemade pastas. Die-hard foodies like me are seeking out ultra specialty ingredients and novel new cooking techniques.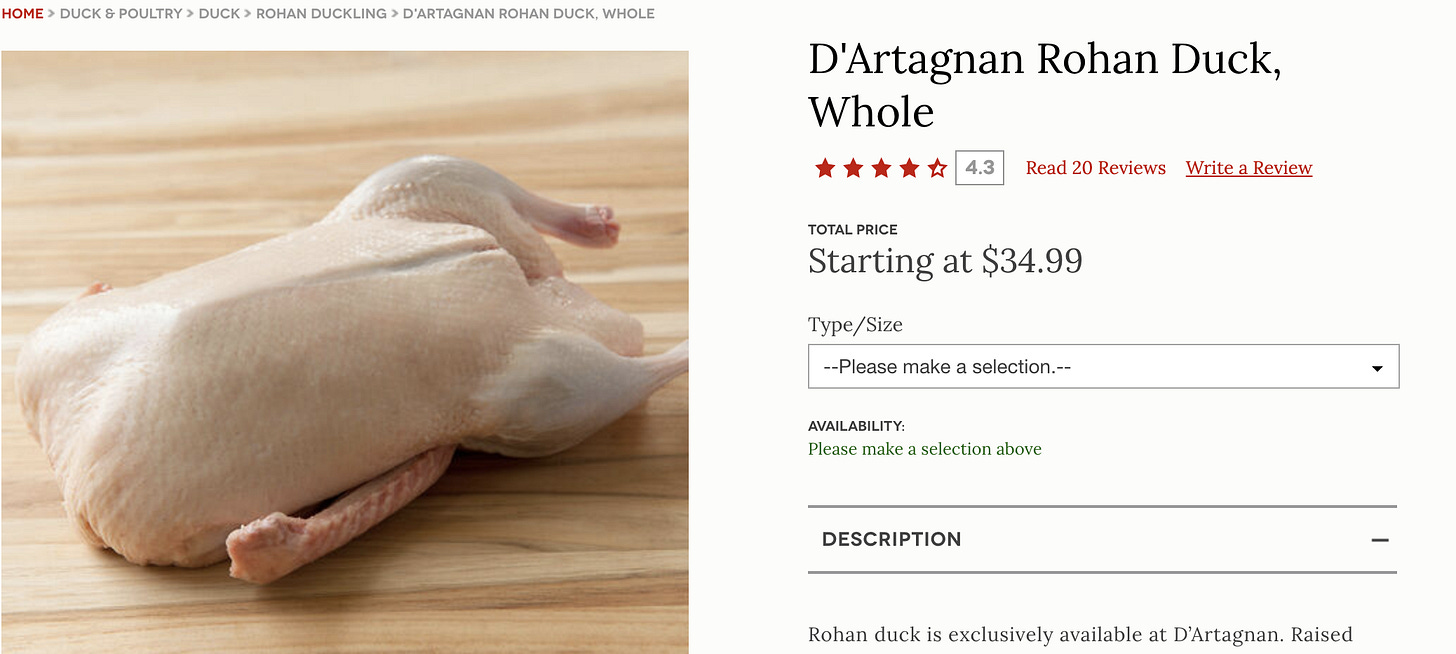 A D'Artagnan duck I recently bought, roasted, and recycled into a Duck broth ramen 😋
We're consuming food journalism and paid content
As we learn to cook and advance our tastes and consumption, we're consuming content from food media sites and chef influencers. Ad-ridden recipe websites are still the most trafficked food content sites according to SimilarWeb, but websites such as New York Times Cooking, TimeOut, Bon Appetite, Eater, The Infatuation, and Food52 are going beyond the print media/advertising model and into paid content subscriptions, travel guides, affiliate sales, and streaming channels. They're making a lot more money doing so.
"This year, The New York Times' Cooking subscription business passed 250,000 subscribers in less than two years. Bon Appétit's YouTube channel has 4.7 million subscribers. By next year, the majority of Time Out Group's revenues will be driven by its global food hall business. Food52 derives 75% of its revenue from sources other than advertising — and sold a majority stake to The Chernin Group for $83 million."- DIGIDAY, November 2019

Food content, social media and monetization platforms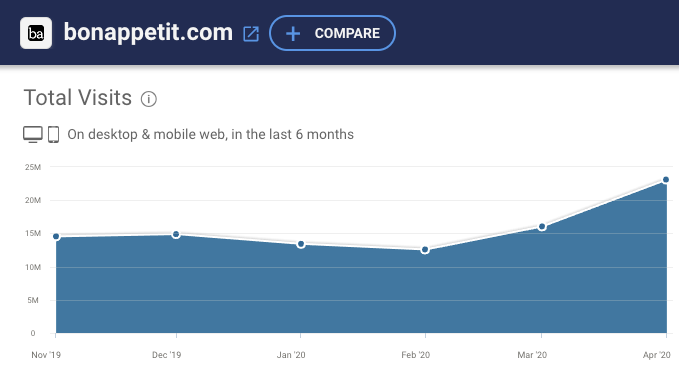 Growth in Bon Appetite online page visits since COVID. Source: SimilarWeb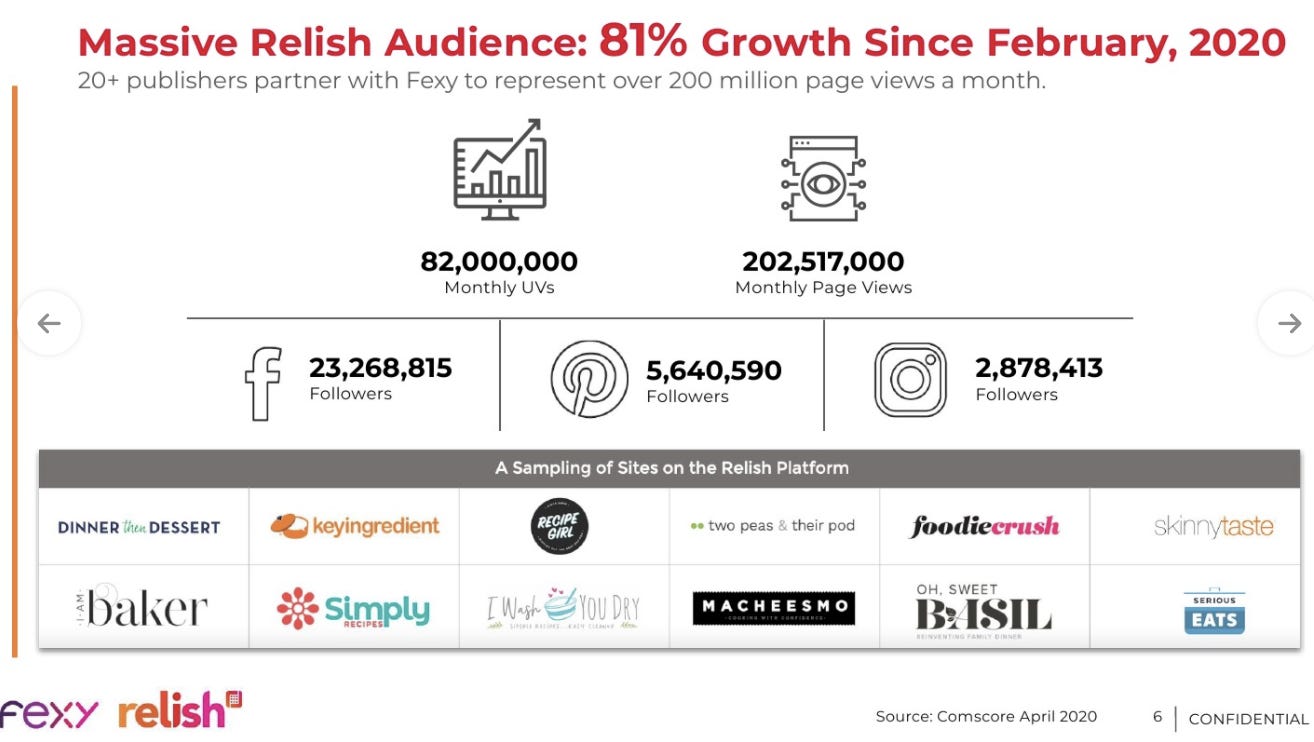 81% growth in this food media conglomerate's collection of sites. Source.
We're learning how to cook on Instagram and YouTube
When we're stumped for what to make for dinner one night, we're watching food-inspo videos on YouTube and Instagram. Chef influencers on Youtube and TikTok have supplemented their day jobs with streaming revenue as well as cookbook sales, branded sponsorships from cookware or food companies, and shop-able affiliate sales via online grocery providers.
Perhaps the best demonstration of this trend is J. Kenji López-Alt, American chef and food writer who enjoyed a huge spike in subscribers for his YouTube channel featuring POV home-cooking videos. Kenji's POV videos from his home kitchen demonstrate the shortcuts, equipment hacks, and organized chaos that is cooking. Kenji owns a restaurant in San Mateo and also serves as the chief culinary consultant of Serious Eats, author the James Beard award-nominated column The Food Lab, and as a guest columnist for NYT Cooking.
POV Oyakodan video by J. Kenji López-Alt. Source: YouTube


Monthly subscribers gained by Kenji's YouTube channel. Source: Social Blade
Brands that have realized the power of chef influencers are partnering with celebrities and chefs alike to promote their products on YouTube.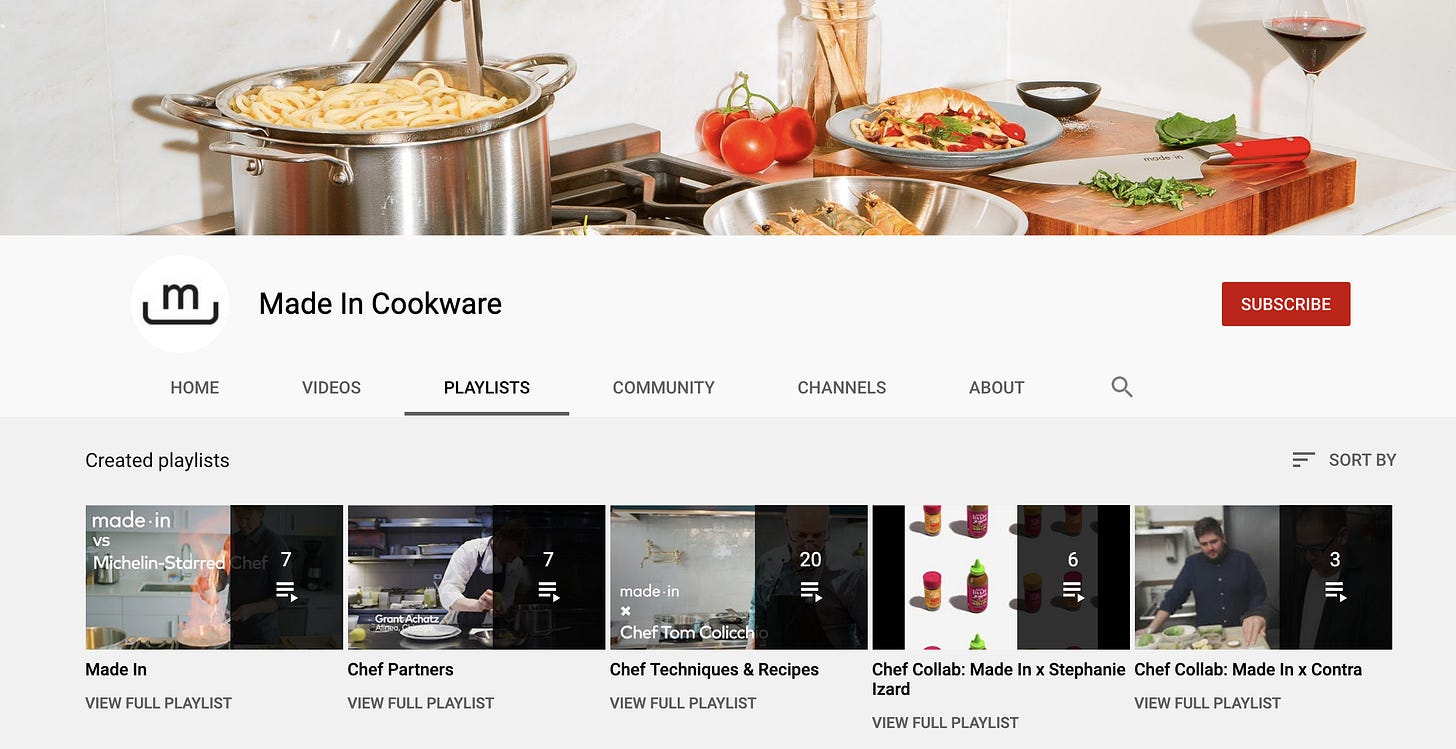 Chef Partnerships featured on Made In's YouTube channel. Made In is a direct-to-consumer cookware company
2. Restaurants are becoming grocers, meal kit distributors, and schools
To keep the lights on, restauranteurs are seeking online platforms to promote and sell their existing inventory and newly prepared goods. Some via their existing delivery providers (DoorDash, Caviar, UberEats, etc.), and others through online storefronts (Tock, Shopify, SquareSpace, Instagram). DoorDash announced DoorDash Storefront in order to "fill the gap between restaurants and delivery services". Instagram/Facebook released Shops, allowing businesses to easily create storefronts and shop-able content.
Facebook and Instagram roll out Shops, turning business profiles into storefronts


Pop-up restaurant concept→ Pop-up Instagram restaurant
Furloughed chefs are using scrappier platforms for distribution like selling home-cooked meals over Instagram. @Dabaodaosingapore is one such chef selling local deliveries of freshly prepared Singaporean/Malay fare over their Instagram stories.
*Insert Restaurant Name* + General Store/Purveyor/Trading Post
Fine-dining and farm-to-table variety restaurants were the worst hit by COVID-19, losing 85% of sales overnight. To adapt, restaurants are donning grocery monikers and opening access to their supply chain of local and specialty ingredients that we (consumers) simply cannot get at grocery stores. Beluga caviar on your Trader Joe's bagel anyone?
Olmsted Trading Post and Honey Badger are two examples of farm-to-table restaurants in Brooklyn that began selling grocery boxes of regional greens, specialty cuts, prepared food, meal kits, and secret ingredients for pickup.

Honey Badger started selling its grocery items for pickup on its reservations and proof-of-sale platform Tock. As COVID lockdowns began, Tock quickly added functionality allowing restaurants to sell items for pickup. Here's an interview with Tock (and Alinea restaurant group) co-founder Nick Kokonas on how he's pivoted to save both businesses through the pandemic.
Some bakers have gone beyond their local market and started shipping nationally. Mr. Holmes Bakehouse, a Californian bakery, pivoted to offer all-inclusive bake kits of their most famous recipes shipped via FedEx.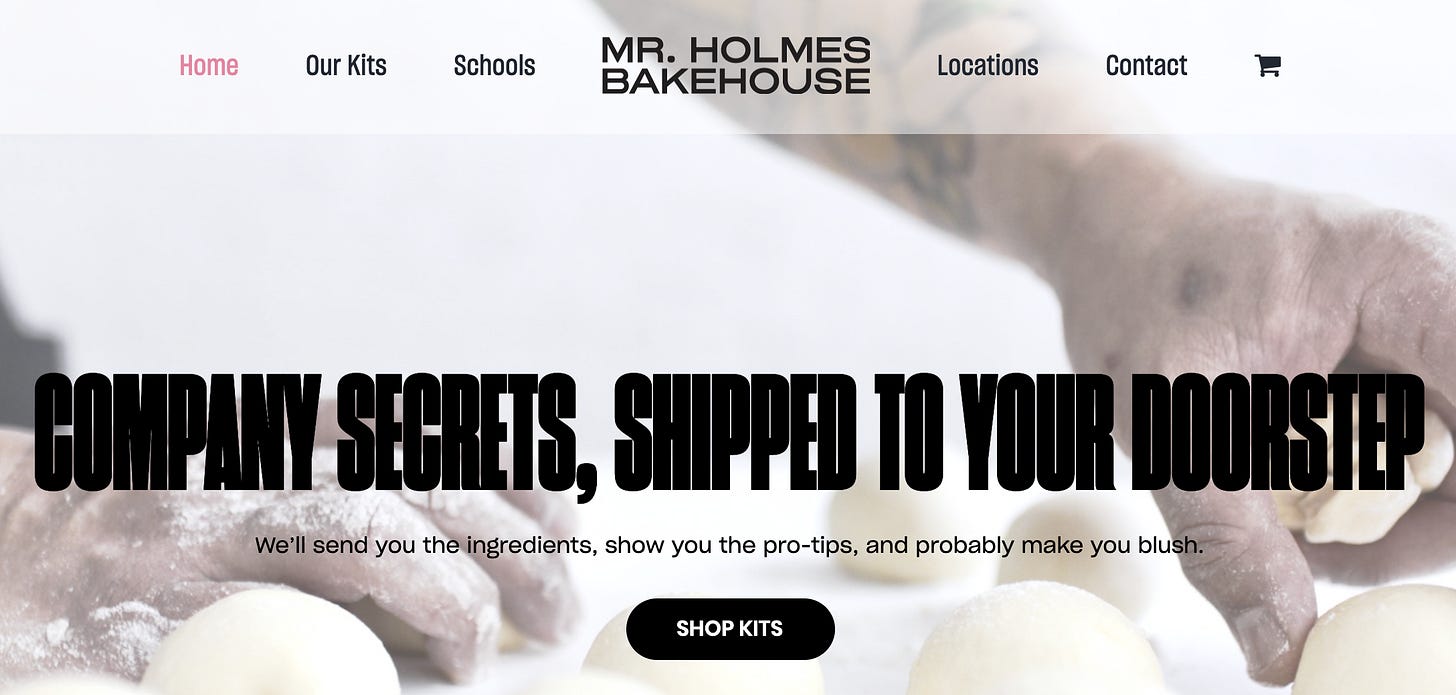 Source: Mr. Holmes Bakehouse
Restaurants and chefs are going virtual
In an unprecedented move, restaurants are sharing some of their sacred recipes via meal kit sales, often accompanied by live or recorded cooking lessons from Chefs.
I spoke with Querida Qiu, a chef from three Michelin starred Eleven Madison Park who started the website Learn FromA Chef.org to "facilitate live, interactive cooking classes to both help chefs earn income during this difficult time, and help people improve their cooking skills at home." For ~$30 per lesson and the cost of ingredients, anyone can learn to cook with chefs from New York's best restaurants. Querida is able to use her connections from the business world (she was a former trader and did business development at Alinea) and the culinary field to sell lucrative corporate events. While enabling laid-off chefs to sell their expertisee, Querida has identified a new form of low-overhead content that people are willing to pay for

LearnFromAChef.org. 100% of the proceeds passed to Chefs.
Virtual Dining Chicago is the best aggregate source I've found for restaurant groceries, meal kits, and virtual events. For at least the extent of COVID, they're helping Chicagoan restaurants sell grocery products and tickets to virtual events while passing on 100% of the profits.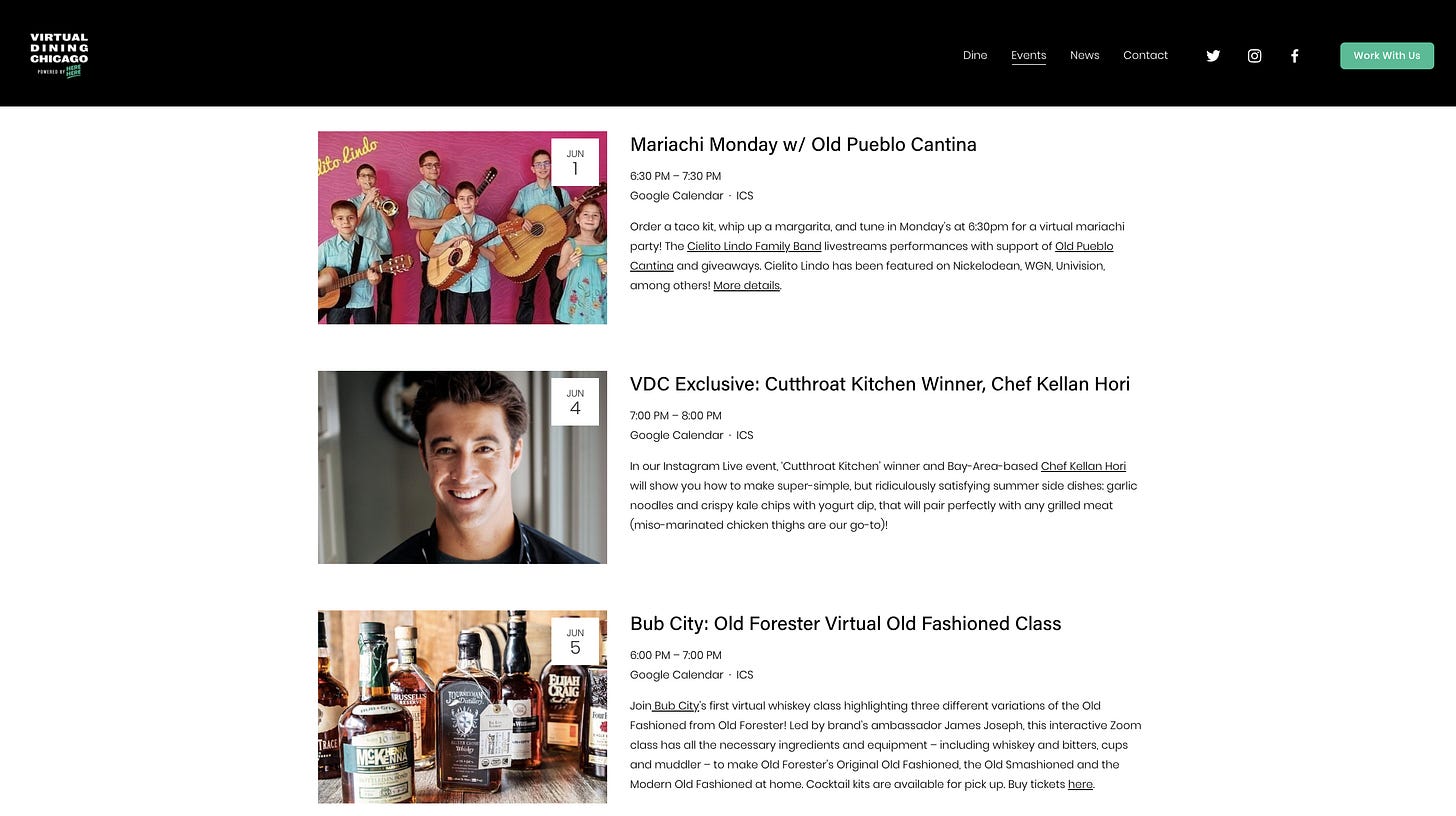 On Virtual Dining Chicago you can buy tickets to cooking lessons, cocktail making demos, and virtual dinner parties.
While I'm NY-based, you can find local/independent meal kits, grocers, and events in most cities. Comment to add a resource!
3. Independent food producers and farms are going direct to consumer


Grocery delivery, online grocer storefronts, and everything in between
Traditionally, food producers supply directly to restaurants or utilize a third party distribution provider like Sysco. With their restaurant demand obliterated, independent food suppliers and farms are going direct to consumer via platforms like Shopify, FarmToPeople, and Instagram.
Regalis Foods, a purveyor of specialty imported foods (such as truffles and live seafood) to fine-dining establishments in New York, Chicago, and Dallas, was stuck with millions in perishable inventory once restaurant shutdowns began. I spoke with Jake Redlener, a sales representative at Regalis, who walked through how Regalis was temporarily transforming from relationship-based sales of imported products into an online storefront on Shopify. Jake explained that while the supply chain of imported foods has suffered, their founder Ian Purkayastha used his prowess in identifying upcoming food trends to revamp their product catalog with new domestically produced goods. To reach a wider audience, Regalis partnered with top NYC chefs (with large social media followings) to sell their favorite ingredients from the Regalis catalog in exchange for a 20% donation to their staff's unemployment funds. To reduce food waste and offer customers an additional incentive, Regalis offered a free ounce of Caviar (retail value of $35–295) with orders over $250.
In some ways, Regalis was prepared to go online. As foragers, dealers, and knowledge brokers, the Regalis team knows the story behind each ingredient they sell, which supports great social and product content. They were also able to convert their warehouse into a shipping facility, allowing them to hire back furloughed staff. Since moving online, Regalis has not only been able to sell off most of its perishable goods but also regain the majority of its pre-COVID revenues.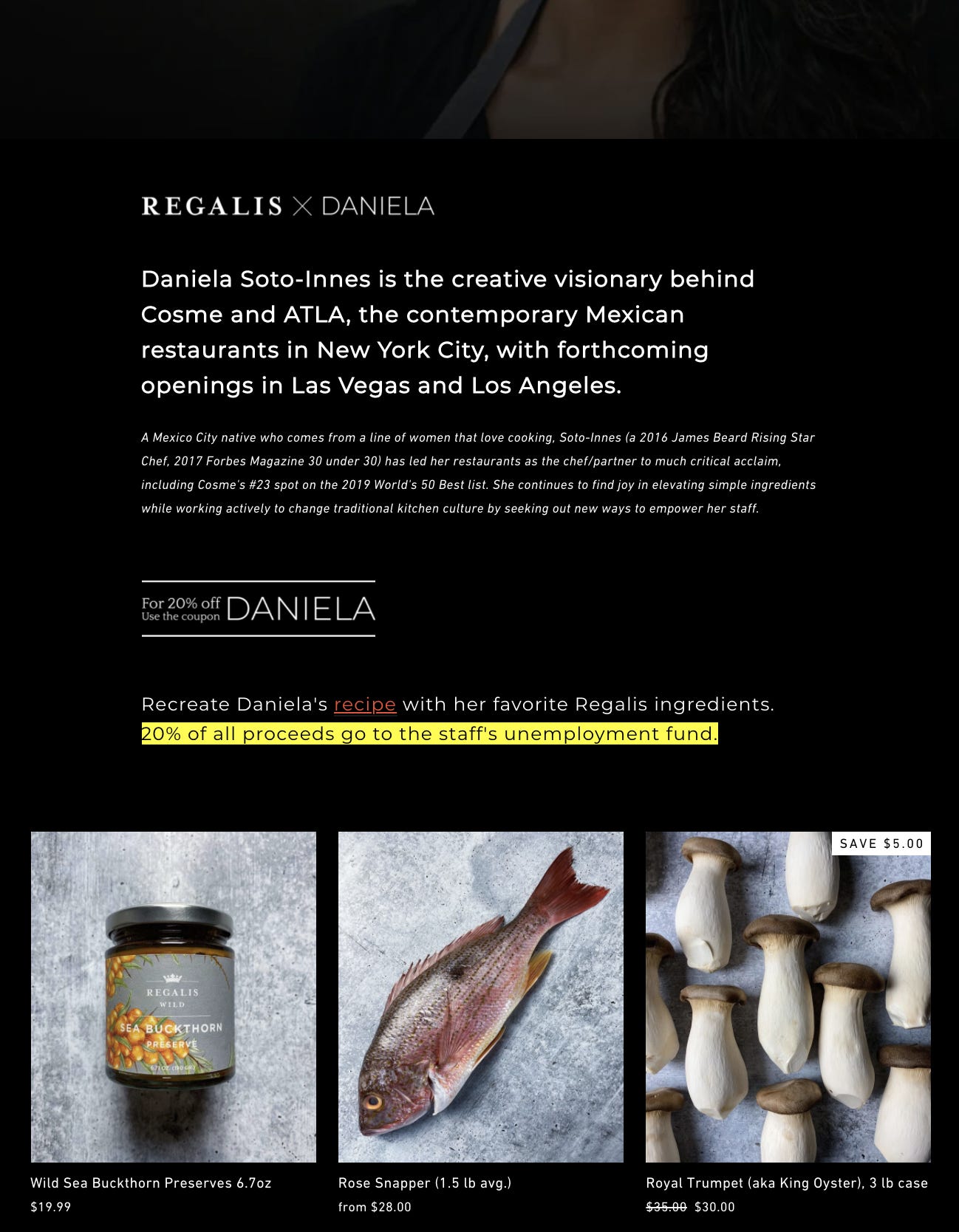 A chef-inspired partnership on RegalisFoods.com. 20% is donated to Daniela's staff unemployment fund.
Services like Barn2Door offer consumers a Shopify-like online buying experience with fulfillment completed by the business owners themselves. It's worth noting that many American wineries, at least in Washington and NorCal, have done direct-to-customer sales for a while.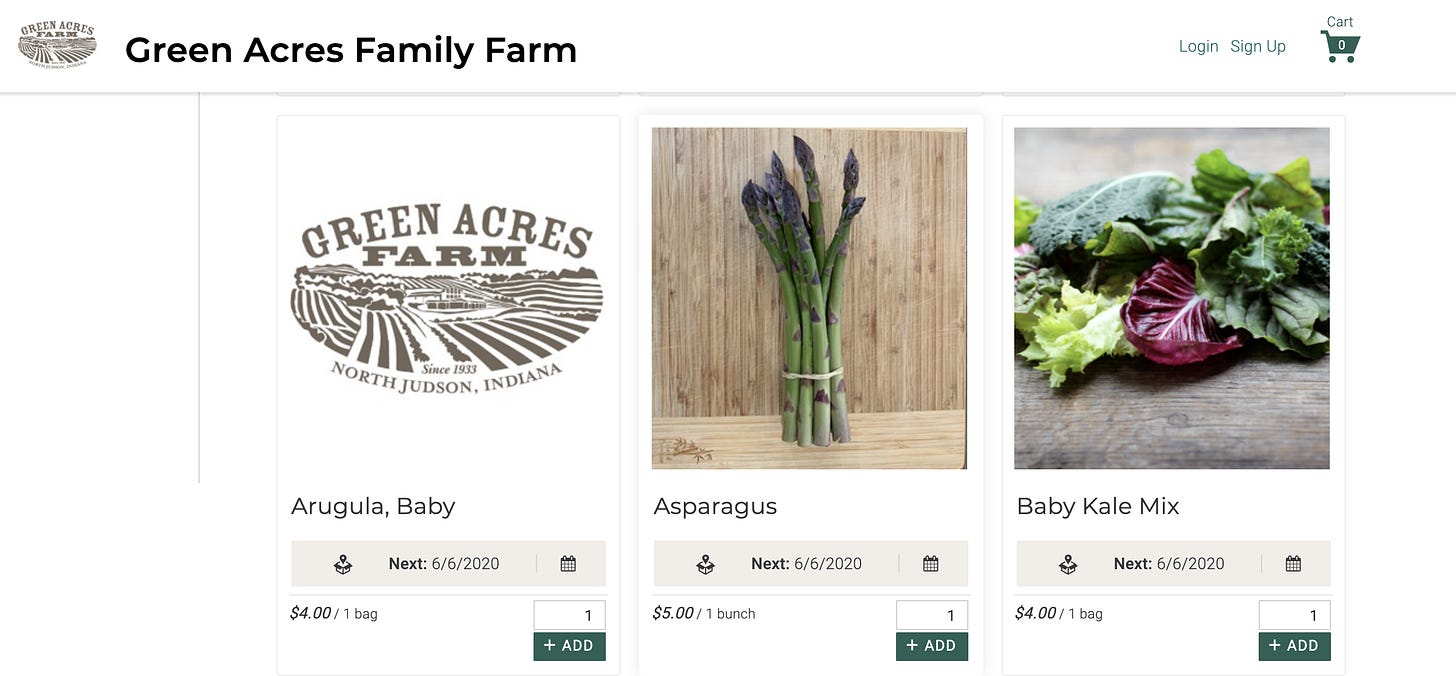 Green Acres uses Barn2Door to service the Chicago market
Similarly, SourceWhatsGood enables independent farms and food producers to sell their goods for pickup at local farmer's markets or restaurants.

WhatsGood allows you to prepay and pick up at your local Sunday farmer's market
And at a national level, grocery box startups have popped up in every niche- premium meats, prepared foods, and produce. Consumers can now reach supply chains of goods they would never never have had access to, such as imperfect produce…
"To combat that [food waste], a new class of for-profit start-ups has emerged: ugly-produce boxes. Companies like Misfits Market, Imperfect Produce, and Hungry Harvest aim to fill the logistical gaps and provide new markets for growers by buying up farmers' "ugly" or excess produce and shipping it directly to your doorstep, often by subscription."- The Atlantic
For many of these services, COVID has caused such a spike in demand that new customers are pointed to a waitlist.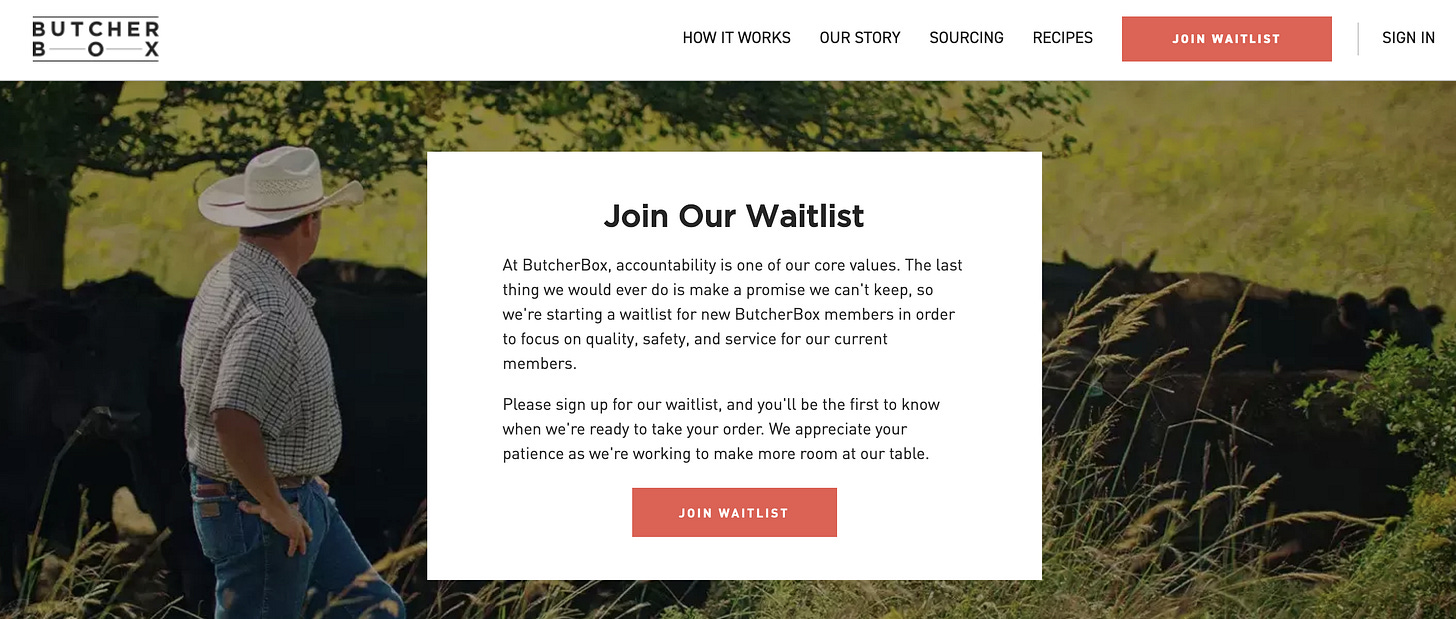 Butcher Box sells grass-fed, free-range meats
4. Meal kit services are having a comeback to serve every culinary niche, locally and nationally
Blue Apron was the first meal kit service to capture national attention, culminating in a public IPO, and inspiring a host of competitors in the process. It pioneered the concept of "Chef-prepared recipes" and charged accordingly (~$12 per meal). Following its IPO, Blue Apron's stock fell from $17 at its IPO to under $1 and it lost half of its subscriber count. Why did its (and others) tech-like valuations deflate so quickly?
RIP Maple, Chef'd, Plated, Sprig… the list goes on
Challenges with meal delivery services
Competition: Logistics for Blue Apron was somewhat of a competitive moat, but news of Amazon acquiring Whole Foods undercut its IPO. New competitors offered loss-leading discounts and built logistics capabilities, and many of them went bankrupt doing so. I personally enjoyed signing up for many of these services to cash in these VC-subsidized discounts before promptly canceling.

User retention: Meal-kit services failed to hit their payback period on marketing spend, e.g. how much they spent acquiring a customer vs how much that customer ultimately spent on Blue Apron. Pricing of food is not opaque- people know how much food costs and have a plethora of comparables in fast-casual dining (e.g. $8 for a Chipotle burrito).

Logistics costs: A missing or spoiled ingredient can ruin an entire planned recipe. Offering free 2-day shipping on a 12-pound box of ice-packed food is expensive.
What customer types exist in the meal kit space?
Amateur home cooks: meal kits solve for the daunting, time-consuming chore of grocery shopping and teach kitchen basics. Once these often cost-conscious, younger customers learn how to cook, they question why they're spending $12 on what they could make at home for $4.

Busy parents: these customers sort recipes by time; they care about ease of preparation and convenience of delivery.

Culinary explorers: these customers have more disposable income and are paying to expand their culinary repertoire with novel recipes. As it turns out, these customers spend the most and stay the longest.

Vegans / Vegetarians: Self-explanatory. Having cooked my way through a few vegan cookbooks, there's a serious learning curve in finding protein replacements, natural sources of fats and "umami."

Fitness X: Protein obsessed, macro-counting, keto, whole-30 people
What meal kit services have evolved from the ashes?
Meal kit services have specialized to serve one, not all of the above customer types.
Prepared foods: less shipping weight, less work for the consumer, easy portion control. These particularly appeal to the people who love to workout.

Grocery + meal kit combos: Services like Hungry Root allow you to order meal kits, prepared foods, and raw ingredients; a more flexible and economical way of getting you through the week.
Greenfield opportunities (IMO):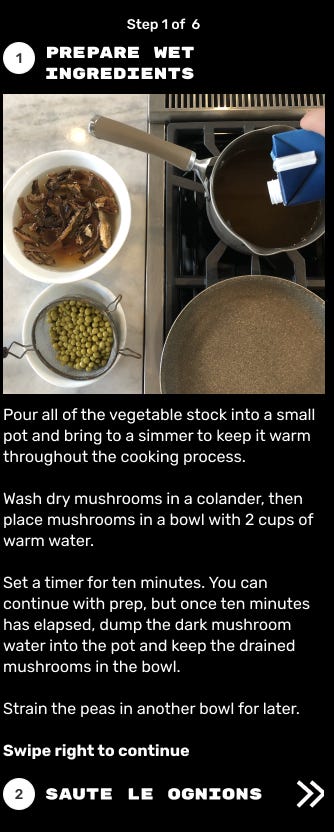 Shoutout to Trucy Phan for design help
Chef influencer meal kits: Chef influencers need more ways of monetizing their audience than streams and cookbook sales. I think a highly loyal fanbase would willingly buy a meal kit + video experience.

Shop-able recipes: allows people to shop recipes and create a cart of grocery items for local pickup or delivery.

Bulk local prepared foods delivery from local restaurants: To save on delivery cost and utilize their kitchen in its down time, restaurants could sell several prepared fresh or frozen meals for the week on subscription.

Delivery-only kitchens: While this is not a new concept (see cloud kitchens), it does feel like we're at the beginning of the delivery-only restaurant trend.
5. Delivery is thriving (obviously) and offers a lifeline to restaurants, the vulnerable, and the lazy.
Spending on meal delivery services was up 70% year-over-year in the last week of March, according to credit-card data from research firm Second Measure- Barron's
Delivery services are thriving during COVID although for many restaurants, going delivery-only is less viable than temporarily shutting down due to reduced staff, all-time-high unemployment benefits, injured supply chain, and high overhead costs. Restaurants that have stayed open are coping by offering a smaller menu with value or bulk options.
Support restaurants → support delivery workers → support the vulnerable
Restaurants such as 886 are offering the option to buy food for healthcare workers or food-insecure families. Similarly, the Chicago bakery Lost Larson offers buyers the option to buy loaves for the local food bank.
Source: YouTube
Off Their Plate (partnered with World Central Kitchen) is one of many nonprofits acting as a conduit between restaurants, health care workers, and food banks during COVID.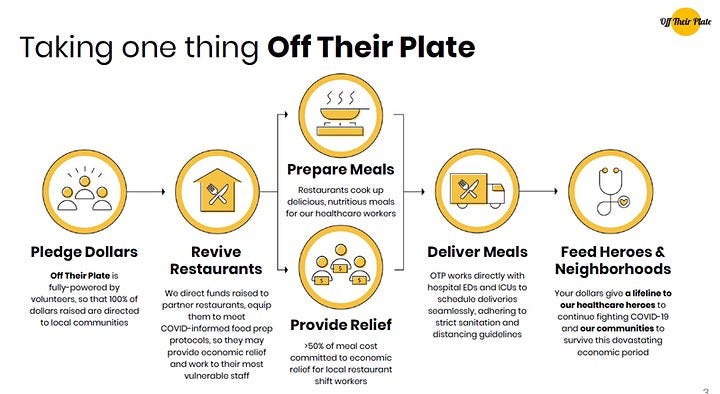 Source: Off Their Plate
"For every $100 donated, you send 10 meals to our COVID frontline and restore ~3 shift hours to the local community" - Off Their Plate
So far, they've raised $5.3 million to serve 533,165 meals in 9 cities across the United States. One thing I love about their message is that they emphasize the multiplier effectof restaurant spend in local economies. This is especially important considering that food services accounts for the largest amount of nationwide layoffs.
I think it's worth considering issuing a portion of bailout funds in the form of restaurant coupons. Some examples of this in action:
Taiwan is offering "stimulus coupons" redeemable at local restaurants

Mark Cuban offering lunch reimbursement to employees who dine at local, independent restaurants
Issues with delivery are quickly rising to the surface — the surface being social media
Ordering delivery and watching plastic containers pile up is causing consumers to rethink their use of single-use plastics.
Complaints from restaurant owners about high fees charged by third party delivery providers has led some cities such as New York to cap delivery fees at 15%. Startups such as Placepull are undercutting these high margins with simple, self-fulfilled ordering software. Call your favorite restaurants directly and save them some money!
6. Cities are loosening restrictive restaurant regulations
Cities are rapidly evaluating and approving legislation to allow for more "streateries"- outdoor dining space in streets and sidewalks as a way to attract customers and circumvent the COVID capacity requirements.
To help bars and restaurants sell alcohol (their highest margin items), cities are relaxing takeout and delivery alcohol restrictions. New York has greatly loosed restrictions and on state senator has sponsored a bill to extend the program by two years.
"I view this legislation as a lifeline," Hoylman said. "To help these small businesses get back up on their feet to make a profit and employing people and contributing to our neighborhoods."- Brian Hoylman, NY State Senator (Source)
While loosened regulations may seem like a small convenience, licensing and expensive process acts as a huge barrier to entry and profitability in the restaurant industry. In Pennsylvania, a scare supply of restaurant permits are traded at fair market value, attracting bids of up to $250K.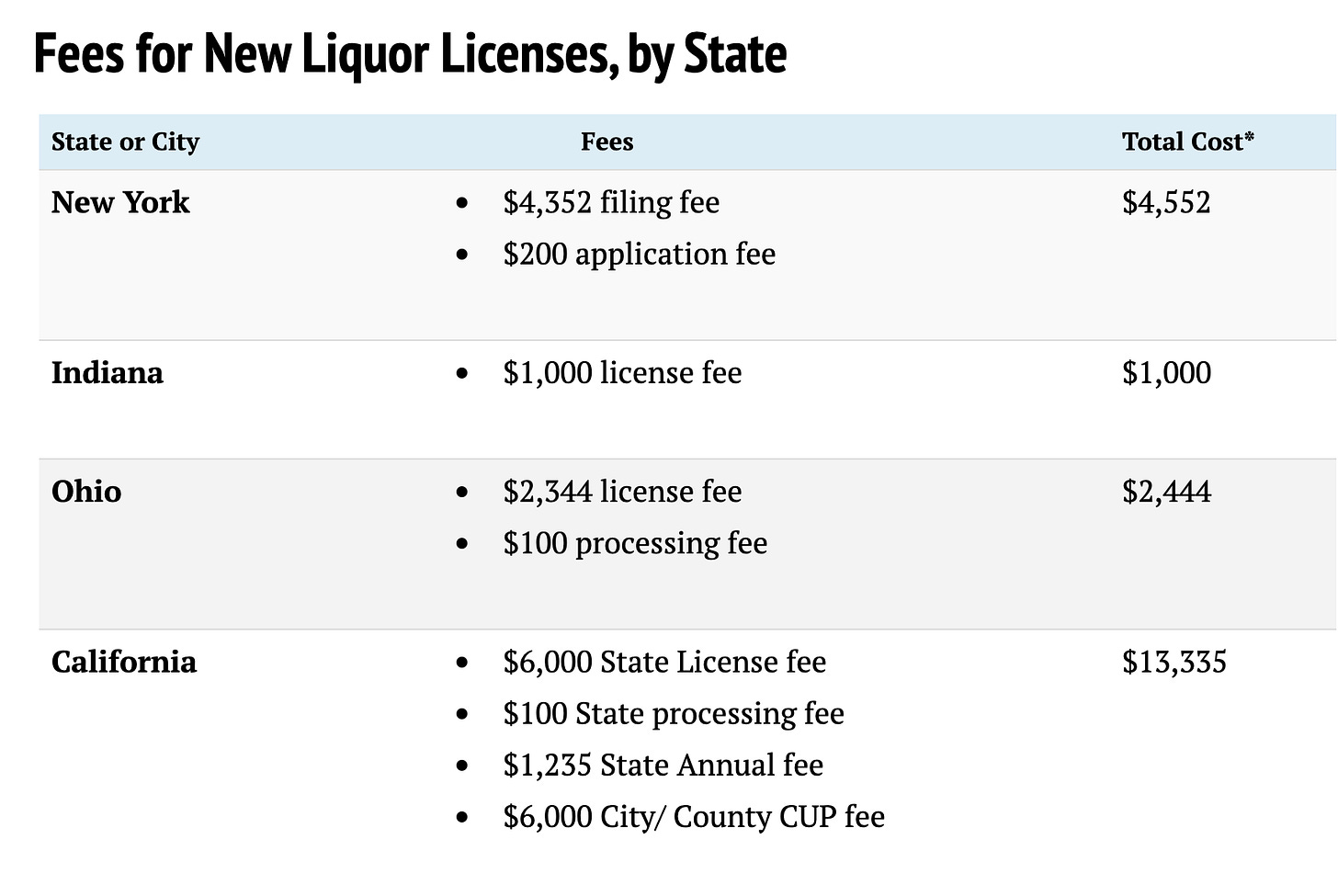 Source: FitSmallBusiness.com
As states frantically look for ways to help small businesses (via loans, grants, rent assistance) and generate new sources of tax revenue (via sports betting, marijuana, etc.), revamped restaurant regulation has accelerated, potentially by a decade.
What trends are here to stay?
Our new habits for where we buy our food and how we learn to cook are here to stay. We'll shop by recipes, pay for content, and source ideas from chef celebrities.

Akin to the tv-dinner trend of the 50s and 60s, meal kits will expand. beyond "premiocre" and achieve mainstream adoption by meeting our needs for convenience, affordability, and novelty. Meal kits will become more tailored to our tastes and more affordable via improved logistics, automation and robotics.

Chefs, similar to fashion models, will leverage their social media following to get hired, attract diners to their restaurants, test new concepts, and earn income via streaming and local delivery. New ways of monetizing their content will be developed.

When quarantines end, COVID-friendly Zoom-based cooking class will lose some of their appeal. The best restaurants and chefs will find new ways of monetizing content, both locally and nationally.

Restauranteurs will factor revenue-boosting lines of business like delivery/pickup and grocery space into their floorplans. Delivery services will race-to-the-bottom on margins as they're essentially all selling the same product.

Cities will lower the regulatory barrier to entry to help both new and incumbent restaurants.
There's no way to sugar coat it- many restaurants, especially independents, will close (McKinsey estimates 1 in 5 by 2021).
Just google search for advice on starting a restaurant and you'll encounter overwhelming complaints from owners on long hours, staffing difficulties, and thin margins. I certainly heard it from my parents throughout my childhood. However difficult it may be, I believe that fast-changing consumer preferences and razor thin margins will continue to leave the food industry open to new entrepreneurs.
Ifyou enjoyed my writing, please share, tell your friends, contribute to OffTheirPlate or just simply #eatlocal. If you work in the food industry and could use IT help, reach out to me for free assistance.
THANKS TO Trucy Phan, Jake Redlener, Querida Qiu, Lauren, and various food workers for inspiration and feedback.