The IoT Promise: No Kitchen Left Behind
Four IoT applications to make kitchens smarter, efficient and safer.
In this note, I explore 4 specific areas in which IoT (Internet of Things) devices that can help make restaurants smarter, safer and more efficient over time. IoT was once buzzy jargon that evoked images of microwaves talking to each other but it has quickly become a $250 billion industry.
The versatility of IoT devices and its vertical growth maps neatly onto the rise of virtual kitchens in 2020.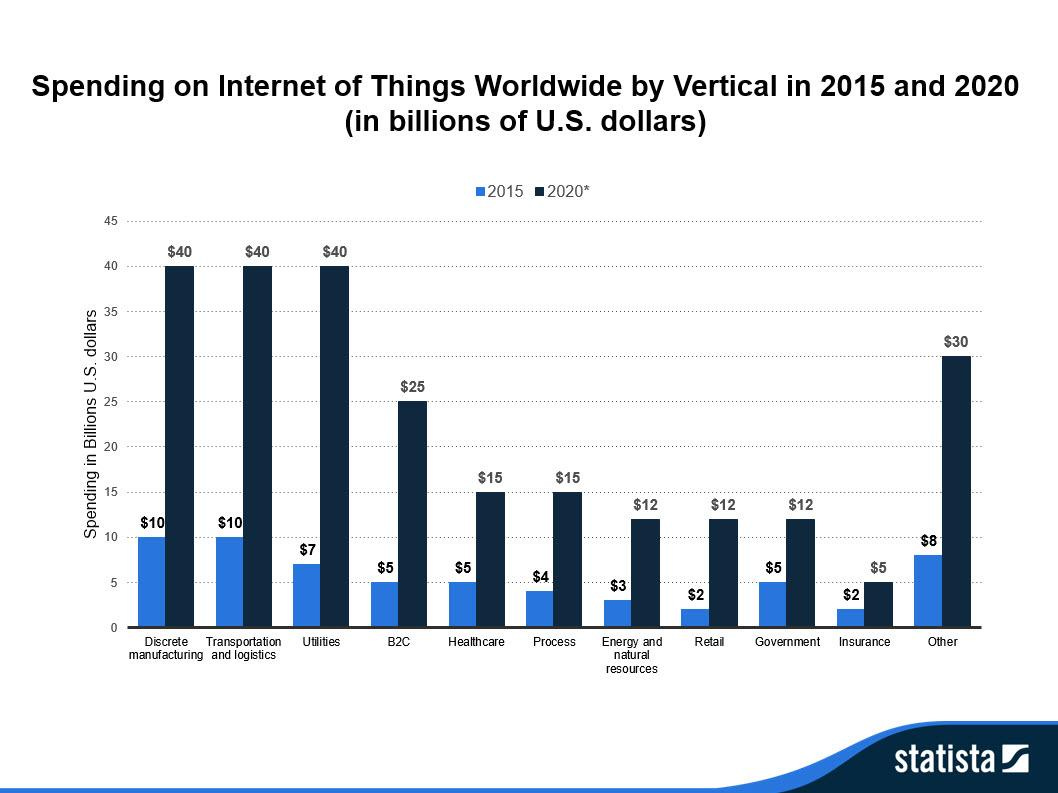 (Source: Statista)
IoT + Virtual Kitchens = Smart Kitchens.
If you're wondering what a virtual kitchen is — we covered that in a post here that features a deep dive into a CloudKitchen facility. Connected devices can be used for everything from inventory management to reducing food waste.
Let's take a closer look at IoT endpoints in virtual kitchens.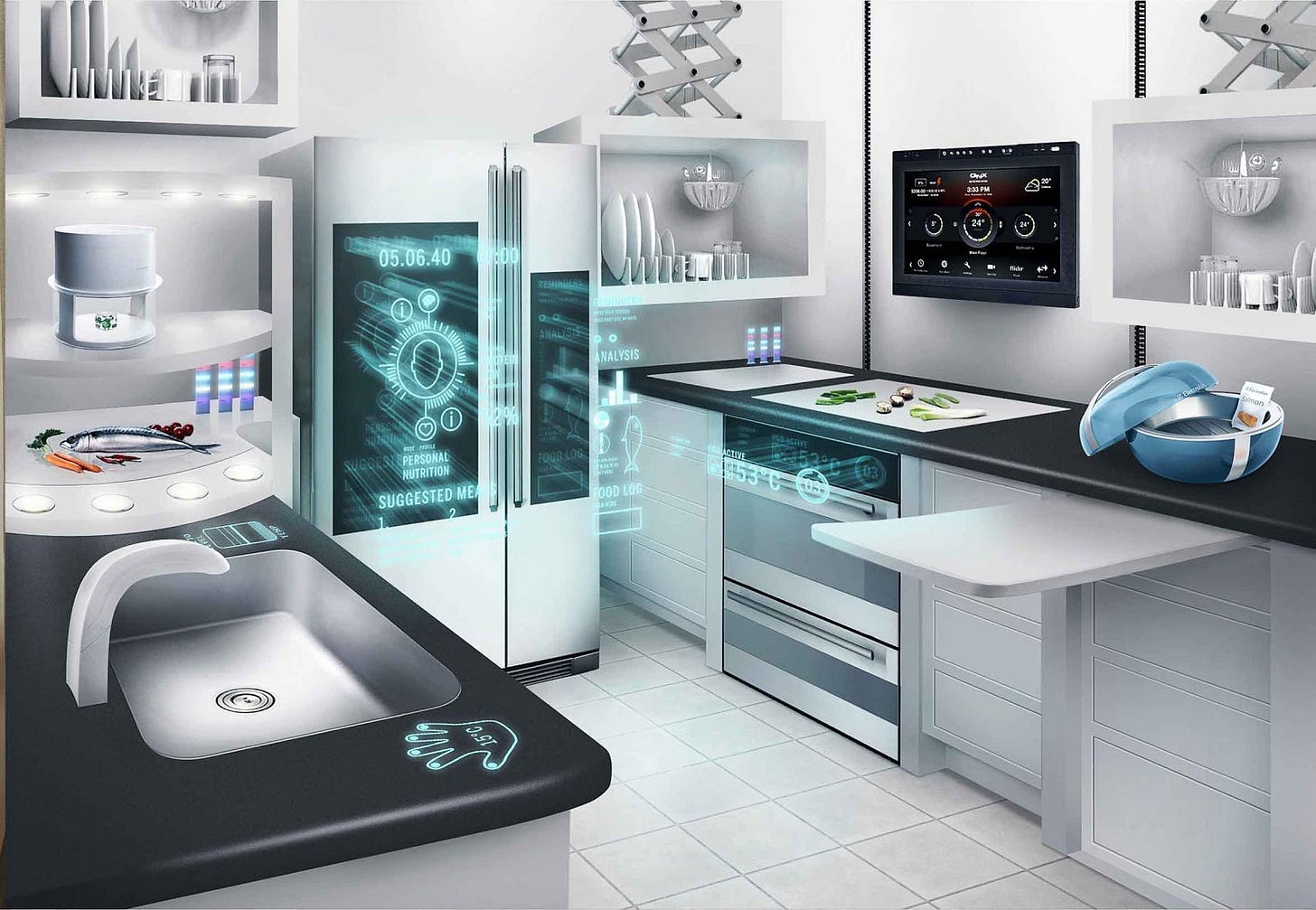 (Source: IronsExpert)
Food Safety and Quality Control 
Kitchens that look like they came out of Gordon Ramsay's Kitchen Nightmares are more common than you think. That's because maintaining food safety measures in a kitchen takes overseeing a multitude of factors, including temperature, humidity, and the status of hundreds of ingredients. Here's a few examples of violations in restaurants just from the first page of the NYC health inspection report.



Given the complexity involved, restaurants can use a helping hand from IoT devices. Smart Sense by digi is a great example of an IoT application that can help with quality control in a connected kitchen. It comes with sensors that track temperature and humidity in food storage spaces like coolers and freezers.
The data that comes from sensors in connected kitchens can easily be routed to a phone or computer. That means that kitchen operators can remotely monitor key food safety data. These systems are programmed to alert you when there are out-of-range readings or potential for food spoilage.
---
For instance, here's what CloudKitchens uses in the US to monitor temperatures.
Dashboard main page: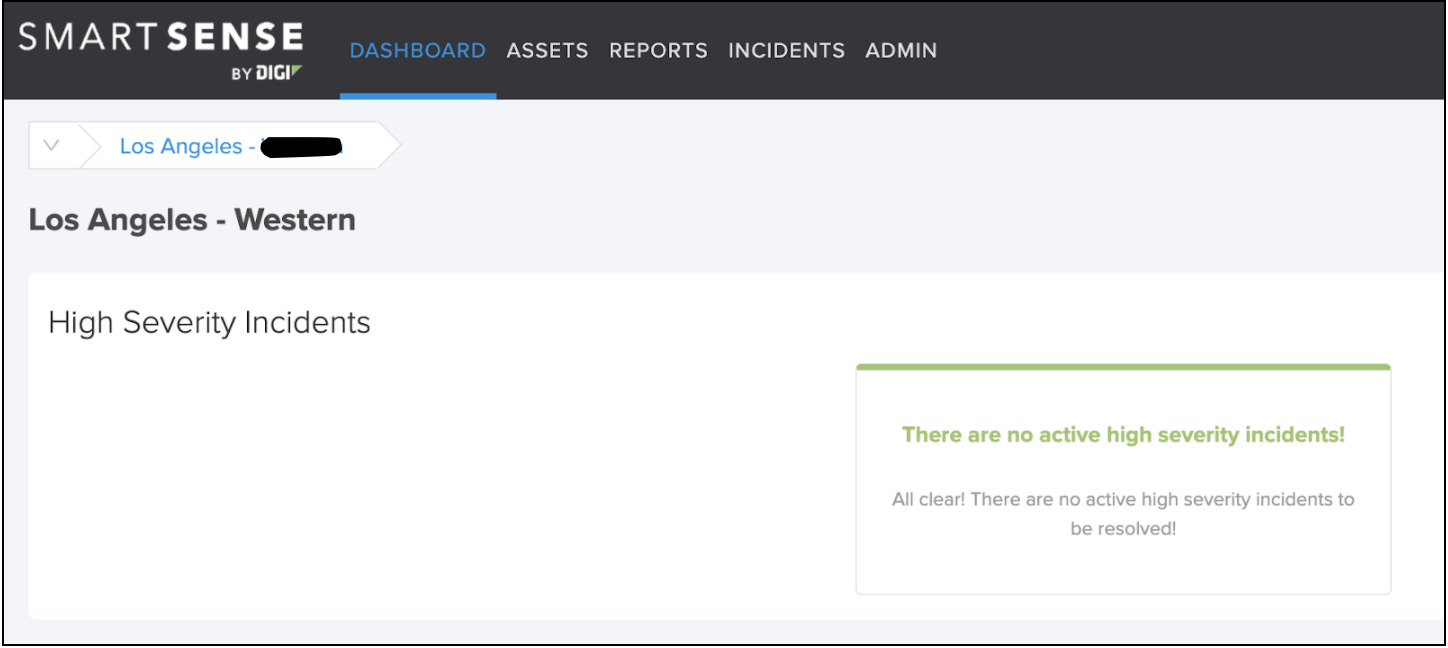 Example Report: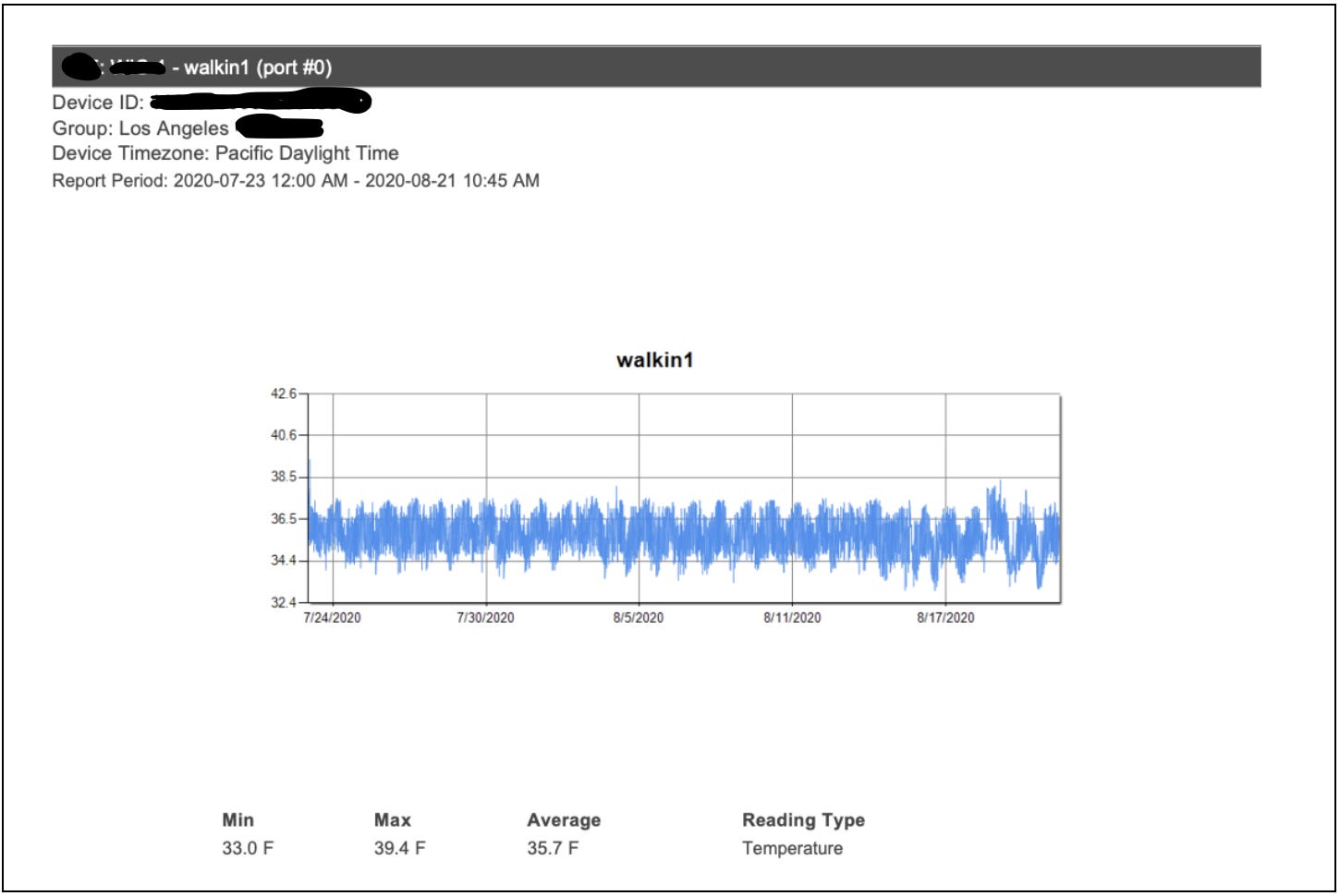 Example Alert Auto-notification: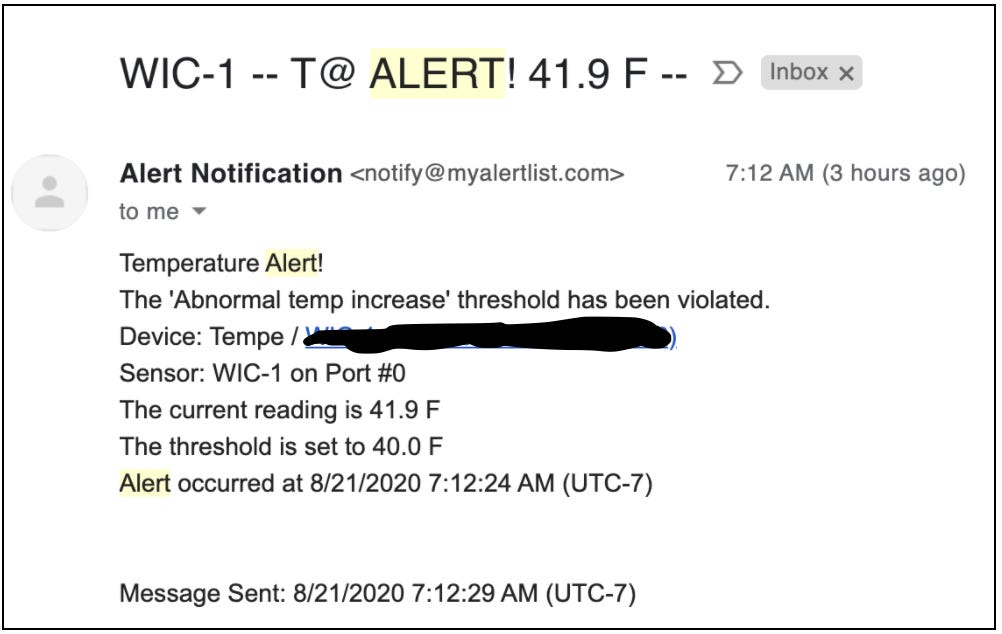 Inventory Management & Reducing Food Waste
Managing inventory can be a time-consuming task in commercial kitchens. In most cases, the process is ad-hoc. Restaurants usually have an employee eye-balling inventory levels and ordering ingredients as soon as it seems like levels are low.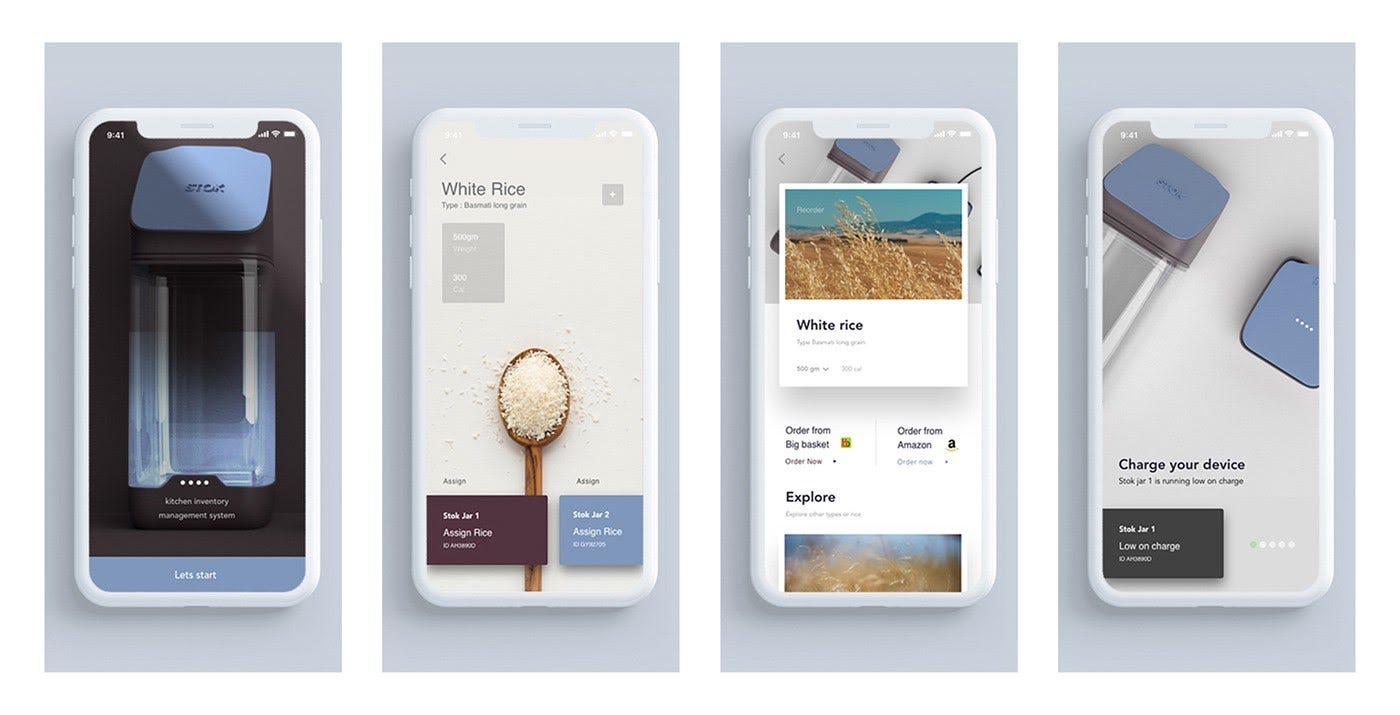 (Source: Analogy)
IoT provides a path to more efficient inventory management. Products like smart mats and smart jars allow restaurants to automate inventory management. Not only do these products monitor inventory levels, but they can also automatically order items if you need them to. 
Kitchen staff who would otherwise have to obsessively monitor the inventory levels of several ingredients are freed to be productive in other ways. Importantly, food wastage reduces drastically when restaurants have live data on inventory levels and automate orders using that.
Smart Kitchen Appliances
Smart ovens, WiFi-enabled fryers, connected refrigerators, intelligent cooking pans - the list goes on and on. These are all kitchen appliances that can do their job better than past iterations thanks to their IoT innards.
Chefs can get a helping hand from cook and hold ovens that regulate their own temperature and smart pans that measure ingredients and display recipes.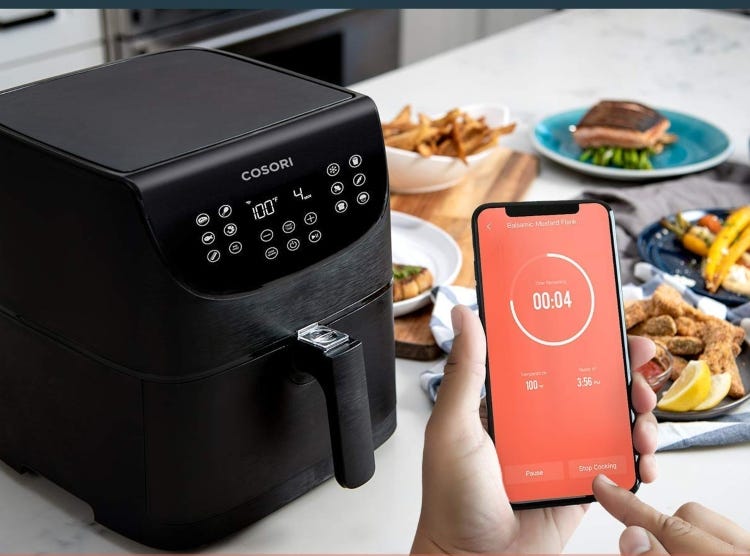 (Source: Cosori)
These smart kitchen appliances can communicate with their users in real-time. For example, you could have a stove that alerts a cook about breakage in its body through a sensor. So along with getting better-cooked food using these devices, you can also automate equipment maintenance checks. 
Robot Chefs
Robot chefs have gone from being a science fiction pipe dream to a very real possibility in commercial kitchens. Check out Flippy by Miso Robotics. This is a robot that can work a fryer or grill completely on autopilot. It also automatically switches the tools that it needs for different functions and cleans them on its own.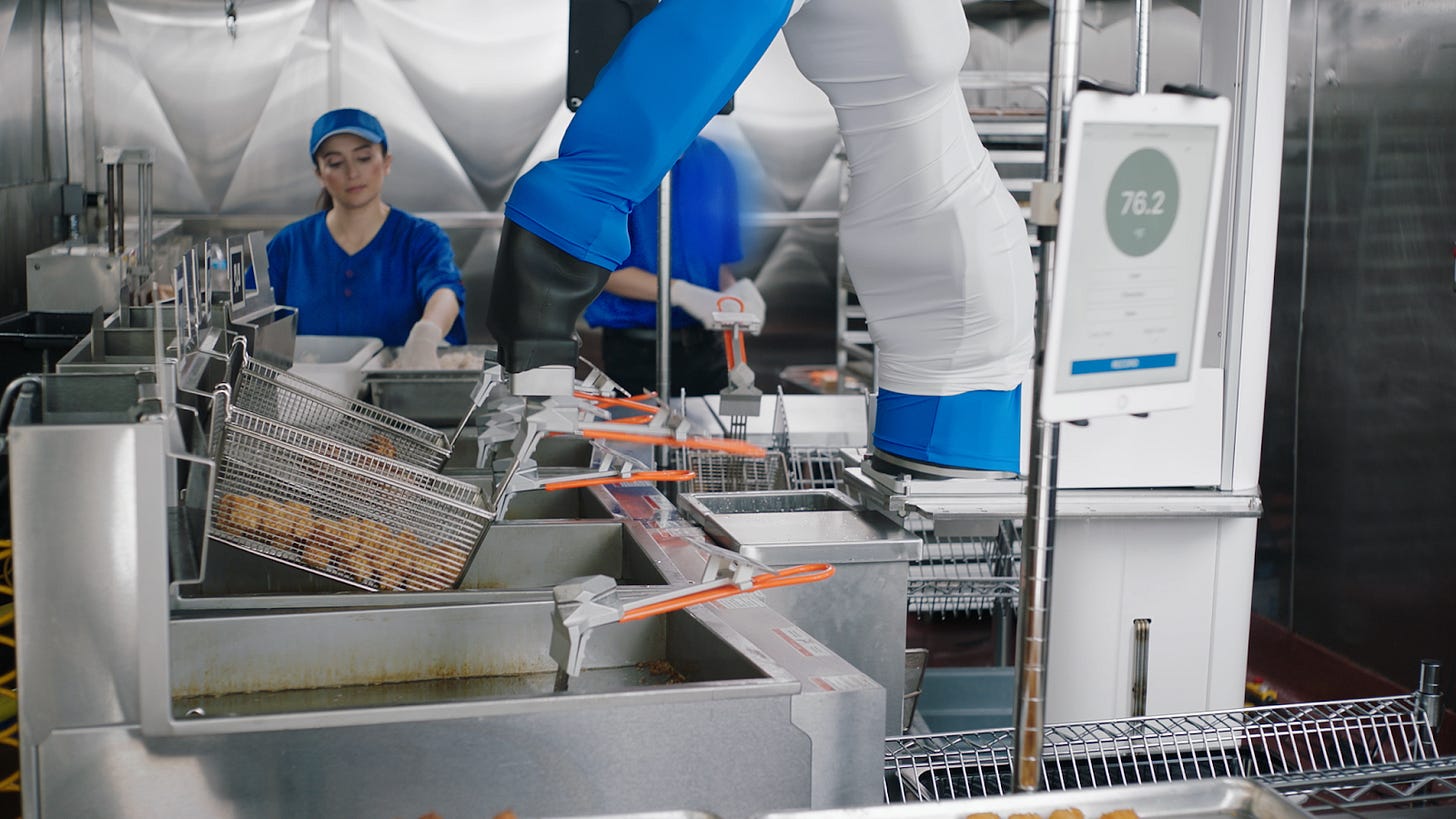 (Source: Miso Robotics)
Perhaps the most important feature in Flippy's arsenal is its ability to collaborate with staff in a commercial kitchen. It uses thermal scanners and laser sensors to track cooking progress and serve food alongside kitchen staff. Miso Robotics' robot chef has already started making inroads in commercial kitchens.
White Castle just announced that it would partner with the company to deploy Flippy at some of its locations later this year. Flippy already has experience working at burger chains like CaliBurger.
Companies like Kitchen Robotics are taking it one step further — making fully programmable, adjustable, automated virtual kitchen equipment. As I noted on twitter, this makes it easier for chefs to own their creations and start restaurants.
Concluding Notes
The ability to marry bits (software) and atoms (hardware) in creative ways continues to be centrefold in the food tech revolution. IoT devices have the potential to make kitchens efficient, smarter and safer. These can ultimately help reduce food waste, make food preparation safer and help kitchen staff in managing day to day affairs.
Are you building anything in this space? Get in touch!